Poliweb Graphics S.r.l once again opts for Durst Tau 330
Italian Tau 150 customer invest in the new UV Inkjet label Press Tau 330;
Durst, the industrial inkjet specialist and the Italian company Poliweb Graphics S.r.l.(PWG) are intensifying their cooperation by installing the new digital UV Inkjet Label Press Tau 330. PWG designs and produces innovative packaging solutions: standard and multi-paged self-adhesive labels with special technological solutions and informative booklets. In late 2011, PWGinstalled the Tau 150 Label Printer, in order to open up new market potential with digital label production.
In these past 4 years, PWGhas successfully developed the digital label business. Due to the increasing demand of digitally printed label jobs, an expansion of the production capacity has now become necessary. Despite the variety of available market solutions, PWG has once again opted for Durst and is investing in the successful Tau 330 UV Inkjet Label Press, which features an impressive range of applications and an outstanding print quality of 1260 dpi. Durst's operational- and service competence were also crucial factors for PWG to decide a second time for Durst.
Durst Tau 330
The Tau 330 redefines the standards for digital UV inkjet- and packaging print. It is equipped with Xaar 1002 Single-Pass Printheads and has a maximum print width of 330 mm with a maximum print speed of 48 running meters per minute, reaching thereby an outstanding production capacity of 950 sqm. The standard ink configuration of CMYK can be upgraded on-demand with White and two additional process colors such as Orange and Violet, which are indispensable for label applications with a large pantone color space. Even the standard version of the Tau 330 comes with comprehensive RIP software with integrated substrate- and color management options. With the new high definition print mode, the Tau 330 now achieves a resolution of 720 x 1260 dpi, which significantly improves the print quality and generates highly defined texts and intricate details in all graphics and images. In order to ensure highest productivity with an entirely digital end-to-end workflow, the Tau 330 LFS version now features a new in-line digital laser finishing system by the expert die cutting company Spartanics. The integrated powerful 1000-Watt laser enables fully automatic job changeovers, while continuing production without interruptions.
Another feature of the Tau 330 is its compatibility with SUNJET's new Tau Low Migration Inks for primary food packaging. The substrates of the Tau Low Migration Inks comply with all guidelines of the European Printing Ink Association (EUPIA), the Swiss Ordnance for Materials and the Nestlé Packaging Inks Specifications. This ink expands the production range of the Durst Tau 330 to include self-supported foils, such as blister packaging, yogurt lids and many other applications. Additionally, the integrated inert gas system reduces typical odors of UV inkjet printers to meet the requirements of the food- and pharmaceutical industry for low-odor print production.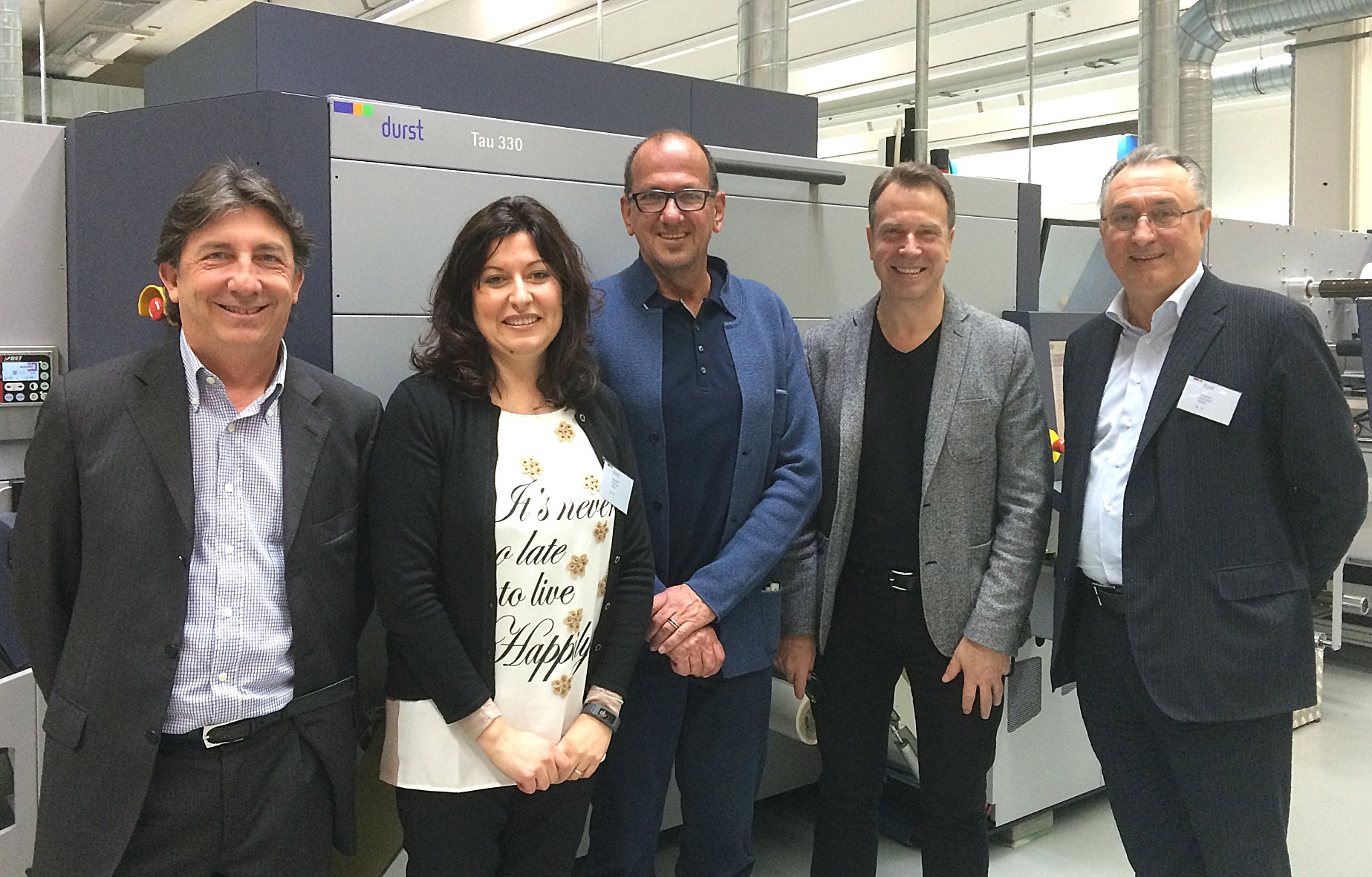 Italian Tau 150 customer invest in the new UV Inkjet label Press Tau 330;